Programs and Special Events
2023
---
UPCOMING EVENTS 
---
Check back for details as new events are scheduled
including the annual Winter Solstice Soiree
---
---
RECENT EVENTS

---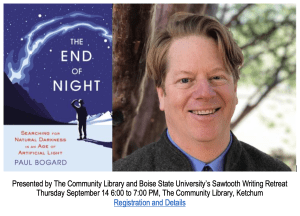 ---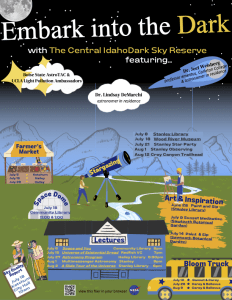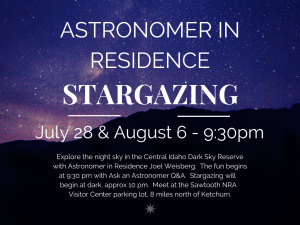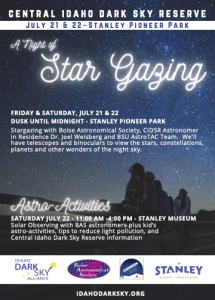 ---
LIGHT POLLUTION & CITIZEN SCIENCE
July 18 10:00 am – Ketchum City Hall
Learn more at this presentation about our ongoing partnership with UCLA to conduct light pollution and sky quality monitoring research within the Central Idaho Dark Sky Reserve. And how you can be part of a citizen science effort to protect the night sky!
Light_pollution_monitoring_news_release_7-11-23
---
February 3 – Boise
Free Film Screening and Q&A Session
Feb 3, 2023, 7:30 PM (MT)
Boise State University,
Education Bldg, Rm 112
2133 W. Cesar Chavez Lane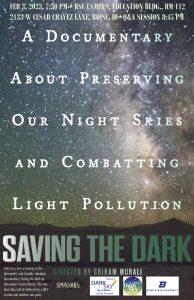 ---
The night sky throughout the Reserve is pretty amazing any night of the year. It's mostly a DIY adventure so you can just go outside and look up.
We cooperate with several local organizations that include star-gazing events and astronomy programs as part of their educational programming. You can check out the websites below to find dark sky related presentations.
For a do-it-yourself tour, Highway 75 offers a beautiful drive through the heart of the Reserve from Stanley to Ketchum. Highway 21 provides access through the northwest corner of the Reserve from Boise to Stanley. If you plan to drive through the Reserve at night, be alert for wildlife (deer, elk, pronghorn, etc) which tend to be more active after dusk along or crossing the highway.
---