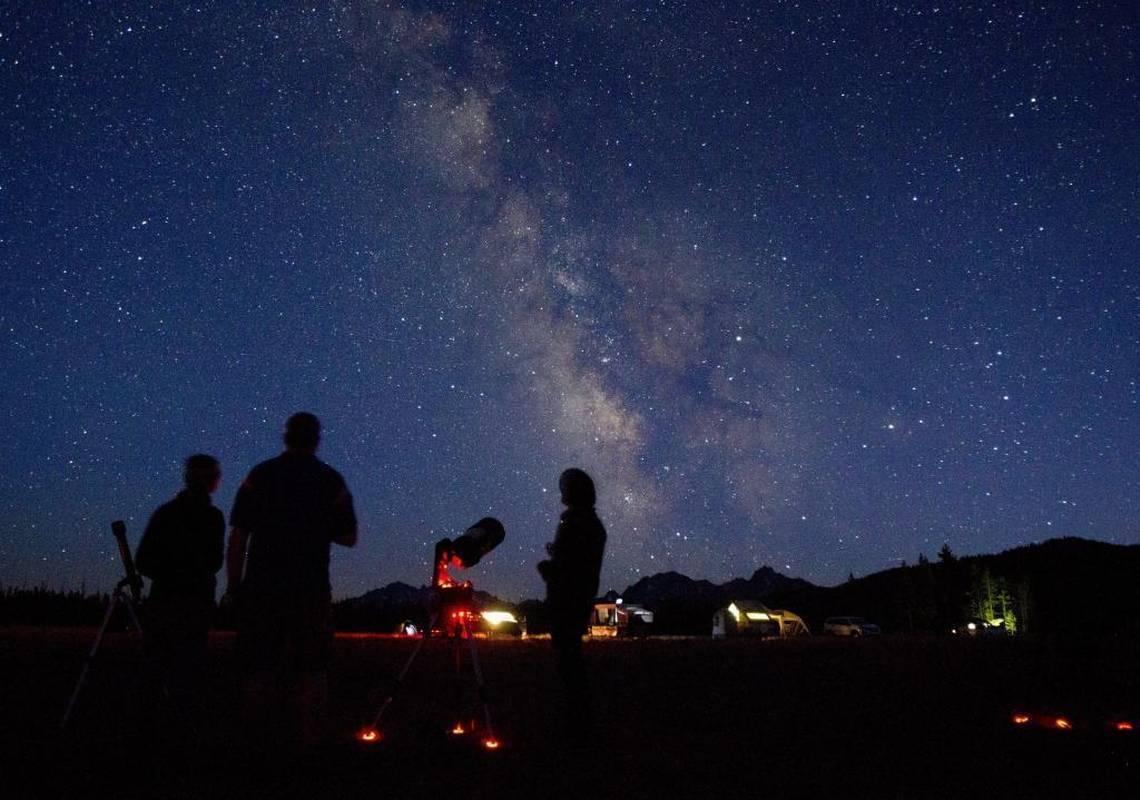 20 Dec

As Boise grows, so does its light pollution — and that may affect Idaho dark sky areas | Idaho Statesman

On a clear night in Boise, you can make out constellations in the night sky — Orion and the Big Dipper, maybe one of the zodiacs if you know where to look.

But in remote parts of Idaho, there are so many stars that it's a challenge to pick out the familiar shapes that seem obvious when we're in the city. That's because it is urban light pollution that makes constellations so apparent. Light pollution is artificial light that dulls the darkness and washes out all but the brightest stars.

In recent years, there's been a push to protect Idaho's best stargazing spots from light pollution, including the creation of dark-sky parks across the southern part of the state that are endorsed by the International Dark-Sky Association. But as Idaho's population grows, so does its light pollution. And though the heart of that growth, the Boise metro area, is dozens of miles away from dark-sky designations, experts say the Treasure Valley's lights still threaten to obscure the sky at these world-class stargazing spots.

"You can already see the glow of Boise on the horizon," said Michael Marlin, a dark sky consultant and astrotourism expert based in Bellevue, near Idaho's top dark-sky destination.
DARK SKY IN IDAHO
In 2017, Idaho became home to the country's first gold-tier dark-sky reserve, a distinction bestowed by the International Dark-Sky Association to areas of "public or private land possessing an exceptional or distinguished quality of starry nights and nocturnal environment that is specifically protected for its scientific, natural, educational, cultural, heritage and/or public enjoyment."
The Central Idaho Dark Sky Reserve is 1,416 square miles, most of which falls within the Sawtooth National Recreation Area. Sun Valley, Ketchum and Stanley all fall within the reserve, which features multiple viewing sites and "core areas" of peak darkness near Redfish Lake and in the Cecil D. Andrus-White Clouds Wilderness.
Stanley Mayor Steve Botti, who first floated the idea of the reserve and later helped write the application to make it a reality, said it took about two years to win the International Dark-Sky Association's approval.
A few months before the association recognized the Central Idaho Reserve in late 2017, it also designated Craters of the Moon National Monument a silver-tier International Dark Sky Park. And for the past few years, Bruneau Dunes State Park has been working toward the same distinction. The park is already home to an observatory and the state's largest telescope.
Stargazing is already growing in popularity at those areas. Bryce Bealba, assistant park manager at Bruneau Dunes, said there's been a big spike in park and observatory visits in recent years. Marlin said the industry is becoming a major attraction for travelers and could be a boon for Idaho — if the state can preserve its appeal.
"As I like to say, 'Idaho, you're sitting under a gold mine!'" Marlin said in a phone interview.
LIGHT POLLUTION COULD THREATEN IDAHO STARGAZING
The areas of dark sky dotted across Idaho are in relatively secluded locales. But that doesn't necessarily protect them from the glowing lights of Idaho's fast-growing Treasure Valley.
According to Marlin, light can travel between 100 and 150 miles. As the crow flies, the Central Idaho Dark Sky Reserve's westernmost edge is about 50 miles from Boise's easternmost boundary. The "core areas" of the reserve are about 100 miles from Caldwell, meaning light pollution from much of the Treasure Valley can still reach those spots.
"If you look at maps … most (light pollution) in this area is coming from Boise," Botti said. "On a really clear night here, you can see the sky faintly glowing to the southwest."
Bruneau is about 60 miles southeast of Meridian and 70 miles northwest of Twin Falls.
"We feel the impacts from both Boise and Twin Falls," Bealba said. "Certainly as the Treasure Valley, the Magic Valley continue to grow, there is going to be an impact on us."
MEASURING IDAHO'S LIGHT POLLUTION
It's hard to say exactly how bad the light pollution coming from the Boise area currently is. There are maps that show sky quality meter readings to illustrate the extent of artificial light, but data for Idaho is inconsistent and often dated.
Data taken in the Treasure Valley in 2013 showed an sky quality meter reading of 18.5 — about halfway between the reading of 16 for a highly polluted area and 21 for a dark-sky site. The data is part of a map at lightpollutionmap.info, which includes information from NOAA.
Since the 18.5 sky quality meter reading was reported in the Treasure Valley, the area has added tens of thousands of residents, increasing the light pollution. A 2016 study shows that the Western U.S., the least light-polluted area in country, and much of Idaho will experience significant light pollution by 2025.
Carol Cole, a member of the Central Idaho Dark Sky Reserve planning group, said the group is talking about installing a permanent sky quality meter to get more consistent measurements. And towns near the Central Idaho Dark Sky Reserve and Bruneau are already taking steps to cut down on light pollution.
"We have continued to work on improving our outdoor lighting, mainly shielding the lights," Botti said.
He said shielding street lights and other outdoor fixtures can reduce three-quarters of the glow and help concentrate the lighting in a single direction. This month, Stanley also converted to "warmer" outdoor lights, which are better for dark-sky viewing.
The color temperature of lights is measured in Kelvin. Blue light is at the upper end of the spectrum and obscures the stars. It can also disrupt wildlife and sleep patterns. Lights at the lower end of the spectrum, from 2000K to 3000K, appear red or yellow in color. The International Dark-Sky Association recommends using lights with a color temperature of 3000K or lower. Stanley's lights are 2200K.
Marlin, the astrotourism expert, said he's concerned that an impending Idaho Power retrofit could translate to a huge boost in light pollution as the company switches nearly 37,000 warm-light, high-pressure sodium fixtures in its service area to LED, which has traditionally been cooler. Idaho Power's service area includes much of southern Idaho, including the Treasure Valley, Bruneau and Twin Falls.
Idaho Power spokesman Jordan Rodriguez said the new lights will be dark-sky compliant at 3000K, the upper limit of the association's recommendation. It will take four years to complete the entire upgrade, he said.
"There's not really a change in terms of light pollution or light spillage," Rodriguez said in a phone interview.
The city of Boise owns 78% of its own outdoor lights — the rest are leased from Idaho Power. Boise Department of Public Works spokesman Colin Hickman said 71% of the city-owned lights are LED, and the rest will be transitioned to LED. Hickman said those lights are also dark-sky compliant, with the exception of roughly 1,450 "historic poles with glass globes."
HOW TO PRESERVE DARK SKY AS IDAHO, BOISE GROW
According to Bruneau park manager Bealba, dark-sky compliant light fixtures are only the starting point for protecting stargazing sites. The park secured a grant to update all of its lights to be less than 3000K and is working with nearby Mountain Home and Mountain Home Air Force Base to reduce their light pollution as well.
Perhaps most importantly, Bealba said, Bruneau is using its boom in visits to educate people about light pollution.
"We can literally just point to our western boundary and people can see that halo of orange light," he said. "There's a tangible, visible impact that we can draw attention to. It's a great teachable moment."
It's an especially relevant lesson considering "a good percentage" of visitors to the park come from the Treasure Valley. For many of them, the quality of the night sky from Bruneau is staggering.
"People get out of their cars, give their eyes a minute to adjust and — pardon the pun — they're starstruck," Bealba said.
Cole, who volunteers with the Central Idaho Dark Sky Reserve, said the planning group is starting to look to contacts in the Treasure Valley to discuss how the city affects the rural night sky.
"We're adding light where we didn't have it before," she said. "Certainly when (Treasure Valley developers) add a new subdivision or this or that … being aware of the most current dark-sky standards is critical."
With the push for dark sky across southern Idaho, Stanley mayor Botti said he's hopeful the area will be receptive to efforts to reduce light pollution.
"We want to address it on a regional basis because that's where the focus will be as Idaho's population continues to grow," he said.
BY NICOLE BLANCHARD